Garlic butter sautéed veggies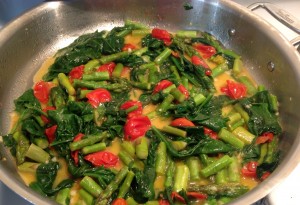 Author:
April Richard at BeyondBaked.com
Ingredients:
3 Tablespoons fresh minced organic garlic
¼-1/2 cup Kerrygold or other good grass fed butter (depends on how much sauce you want)
1 lb organic asparagus chopped
1 cup organic cherry or pear tomatoes
1 bag or 6oz organic spinach
Instructions:
Saute garlic in butter until soft (a few minutes) on medium. Add tomatoes and asparagus and cook for about 10 minutes or until softer, add spinach and cook for another 3 to 5 minutes. Salt and pepper. Use the extra sauce for your protein, it's great on fish!
Recipe by
Beyond Baked
at http://www.beyondbaked.com/2013/06/garlic-butter-sauteed-veggies/