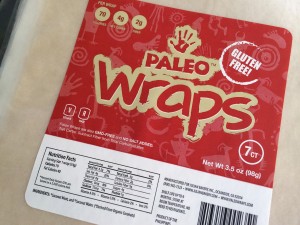 I don't normally  buy pre packaged gluten free foods, but I really like these paleo wraps from Julian bakery.  They are not cheap but they hold up well and the coconut taste is very light.   Also they can be stored on the shelf and they keep for months! I am estimating the calories in the veggies to be about 50 and there are 70 calories in the wrap.  That's only 120 calories.
I use green curry sauce on this wrap because I think the flavors in the sauce go really well with the flavor of the wrap.  Add the sauce at about 5-15 calories, depending on if you make your own or buy it, and it's still under 150 calories.  Or use your favorite salad dressing, or just some olive oil. Recipe for homemade green curry sauce here: http://thaifood.about.com/od/thaicurrypasterecipes/r/Thai-Green-Curry-Sauce-Recipe.htm
OR you can shortcut that with a store bought  pre-made green curry sauce.   Look at the ingredients and go with the most natural one you can find.   Don't be afraid to change out the fresh veggies with whatever you happen to have at your house.   If you eat meat you can add some pastured chicken to it, but it is quite tasty without it.   
1 paleo wrap (Julian Bakery)
1/8 cup organic cucumber sliced in thin sticks ( I leave the peel on mine for extra vitamin k)
1/8 cup sliced organic bell peppers, I like red orange or yellow but green will do or add some hots if you like spice
1/16 cup thinly sliced organic onion
1/8 cup sliced or chopped organic tomatoes
1/8 cup sliced avocado salt and pepper to taste
Optional: 1 tablespoon green curry sauce or dressing of choice. Place everything in the middle and wrap it up like a burrito.  It can be messy , but once you do it a few times you'll get it. Now go on and enjoy, maybe even have two!