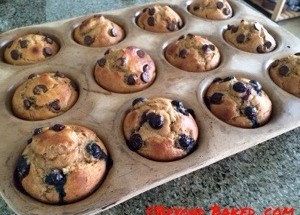 Makes 12 regular sized muffins.
1 cup real natural peanut butter with all the oil mixed in (8oz)
2 ripe bananas
2 eggs
2 tablespoons raw honey
1 tablespoon coconut nectar or molasses
1 teaspoon cinnamon
1 teaspoon vanilla extract
and/or
1/2 teaspoon ground raw vanilla
(I use both)
1/4 teaspoon nutmeg
3/4 teaspoon baking soda
1 teaspoon apple cider vinegar
Add ins:
Chocolate or Cacao chips (I buy SunSpire 65% cacao)
Or
Fresh organic blueberries
Or
Both !!
Grease muffin pans with butter or line with natural liners.  Preheat oven to 400 degrees fahrenheit.
In the mixer or food processor mix the peanut butter and bananas.
Add the eggs and mix well.
Now add the vanilla, cinnamon, nutmeg, honey and coconut nectar. Mix until well combined.
Add the baking soda and vinegar last, mix it in and move to greased or lined muffin pans right away.
I fill the muffin cups 3/4 of the way full and then push the topping in from the top.  This way I can regulate the amount in each muffin and about where there are placed. (I like things to be even) If you prefer you can just fold them into the batter after it's mixed.
Bake at 400 degrees for 14-16 minutes. Wait until the top starts to brown.
This recipe has been slightly modified from the original version at Whole Life Style Nutrition http://wholelifestylenutrition.com/recipes/appetizers-snacks/the-easiest-gluten-free-and-grain-free-muffin-recipe-ever/
Sent from my iPhone