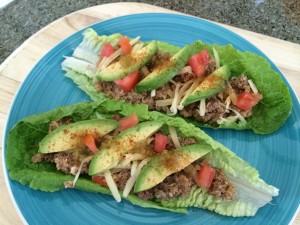 Seriously one of the best Facos (fake taco)  I have ever had.   If your trying to avoid gluten and or corn you won't miss it with these.  They are filling and full of flavor.   My whole family loves this dish.  You can also skip the lettuce boats and eat this right out of a bowl like my kids do or shred the lettuce and serve it like a salad.
You could also make this without the meat and just use a veggie stock if your a vegetarian.
Serves about 4 people.
For the main part of this dish:
1 lb grass fed ground beef
1 1/2 cup quinoa
3 cups beef stock /broth or water can be used
1 cup chopped bell peppers
1 cup chopped tomatoes (a few more raw for garnish)
4 gloves garlic chopped
1/2 large or whole medium onion chopped
2 teaspoons cumin
2 teaspoons chili powder or one fresh chopped hot pepper of choice
1 teaspoon good salt
1 teaspoon fresh cracked black pepper
optional:  1 head of fresh romaine lettuce for the boats
For toppings:
sliced avacado
salsa verde or your favorite salsa
creme fraiche
raw shredded cheddar cheese
sprinkle of cayenne pepper
Brown the ground beef in a large high sided pan.  As that is finishing browning add the onion and garlic.   Saute garlic and onion for a bit and then add peppers for just about a minute.
Next add the broth, quinoa, tomatoes and spices to the ground beef mixture.  Let it come to a boil and turn it down to low-med stirring now and then and keeping it at a very low boil until all the quinoa has cooked and the mixture is thick and not watery about 15-20 minutes.
At this point either spoon it into bowls and top with shredded cheese, avocado, creme fraiche and salsa or let it cool just a bit and serve in lettuce boats.