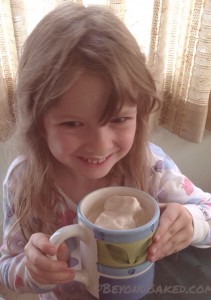 REAL FOOD HOT CHOCOLATE-CACAO
5 cups your choice of milk (I use raw cow milk)
1/2 cup raw cacao powder (you can buy this or grind up your own beans like I do)
1/4 cup raw honey
1 tablespoon real maple syrup (grade b is what I like)
1/2 teaspoon cinnamon
optional: 1/2 teaspoon raw vanilla bean powder or scrapings from the  inside of a bean
Instructions:
Put all ingredients into a pot on low and stir with a whisk until everything is incorporated and it's reached your desired temperature.
Top with real food marshmallows !!!  See below.
REAL FOOD VANILLA BEAN MARSHMALLOWS
4 rounded tablespoons grass fed gelatin ( I use Great Lakes red can)
I cup of water divided into two 1/2 cups (I use filtered water from my Berkey)
1 cup of raw honey (I use Trader Joe's honey, it's the best price I have found and I use it as my main sweetener )
1/2 teaspoon of real raw vanilla bean powder or scrapings from the inside of a bean
optional: arrowroot powder for dusting after you cut them up
Instructions:
You can use either a stand or hand mixer for this but I recommend a Kitchen Aid.
Grease with coconut oil or line with parchment paper, a small glass baking pan. You can go with a 9×11 and get marshmallows over an inch high or a larger pan for smaller ones.
Put 1/2 a cup of your water into your mixing bowl.
Add to that your gelatin and whisk it around until it's dissolved, it will be very thick.
Next in a small saucepan/pot heat the water and honey slowly until it boils. Keep boiling and keep stirring until it reaches 240 degrees on a candy thermometer. This takes a few minutes of boiling. DO NOT LEAVE THE STOVE or while your doing this part. You don't want it to boil over. I found stirring it often with a wooden spoon worked really well.
Pour this hot honey mixture into the gelatin in your mixing bowl slowly and start mixing at a slow speed.
Add your raw vanilla bean.
Turn it up to high for about 12-15 minutes or until it forms stiff peaks.
Pour/scoop it into a greased and or lined pan and smooth it out as best as you can.  They will probably not look perfect 😉  I used a 8 1/2 in x 11 in glass pan.
Cover and let set for a few hours to overnight.   Use a sharp knife to cut them into squares.
They are a soft squishy marshmallow, not as stiff as the ones you buy at the store but they taste so much better!!!!
Comments are closed.