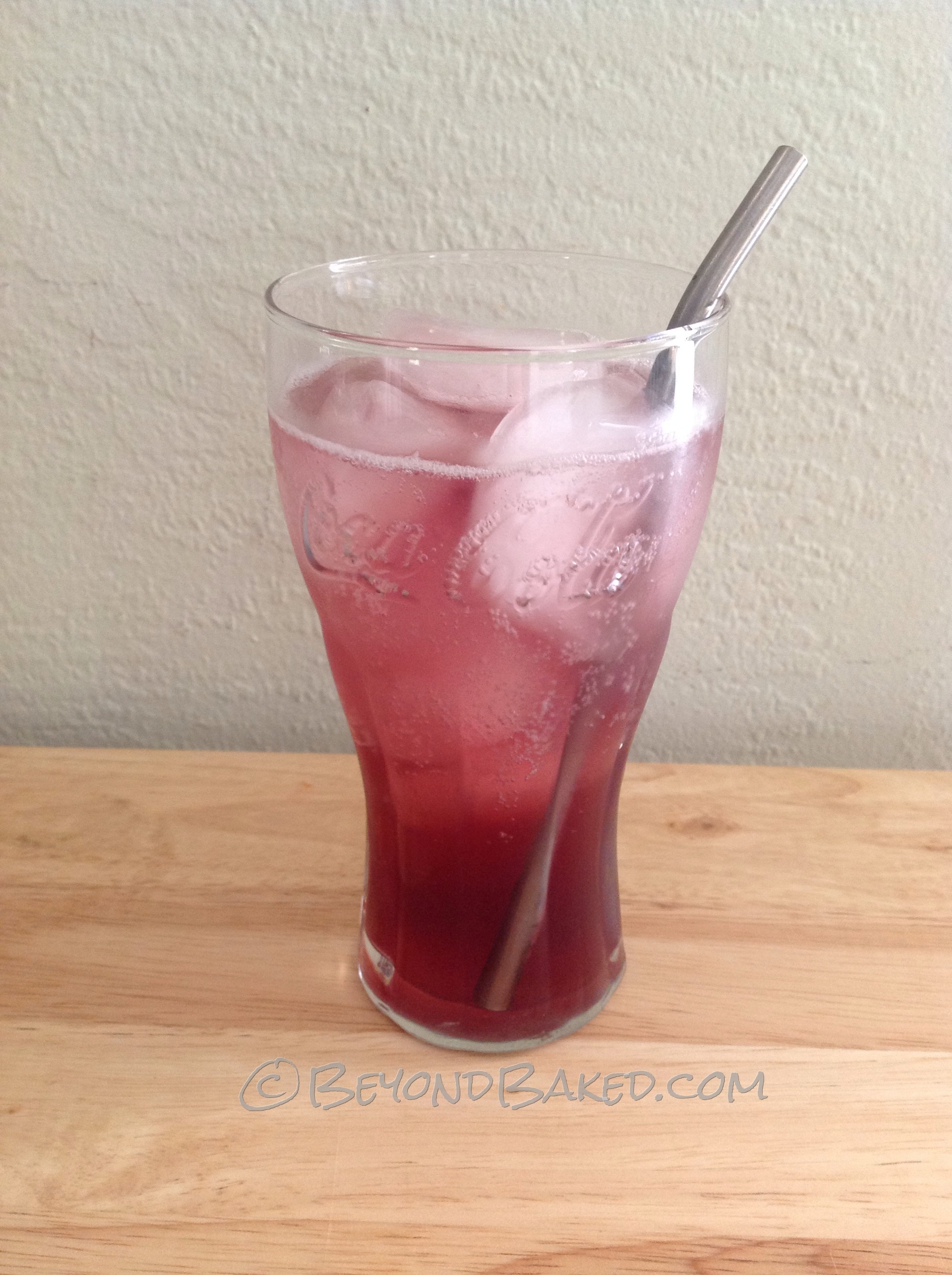 I searched and searched for a healthy soda for my husband a crohns patient who loves a nice cold sweet bubbly beverage.   I found sodas made with cane sugar, not a great option but better than high fructose corn syrup.  I found Zevia and other soda brands claiming to be sweetened with stevia really contain more erythritol  as sweetener than stevia, in fact it is the second ingredient on the list.  Since I've read some research that indicates erythritol causes gas, bloating and diarrhea we avoid that.   The best sweetener in my opinion is always honey, good local raw honey.   So I made a syrup of organic berries, honey and vanilla and used it as the base flavor.   I will be trying orange flavor soon, I'll let you know how that turns out.
Now I needed a bubbly water to mix with the syrup.   You may or may not know this but soda water isn't very good for you.  If you want bubbles mineral water is the way to go.   Here is a great post on the differences in sparkling water types http://www.thekitchn.com/good-question-whats-the-differ-1-85739
I find the best deals on mineral water at Trader Joe's but you can buy natural mineral water just about anywhere.  For example convenience store  7 11 sells Perrier .
I'll post my homemade soda syrup recipe here but also I should mention if your looking for something super easy you can buy fresh pure fruit juice no sugar added.  Not quite as sweet.  If you use stevia this would be a good application because the honey won't mix well unless heated.   Liquid stevia is closest to pure form, I would use that over the powder which also has a strange after taste.
Soda syrup recipe:
(Makes enough for 2 large glasses of soda)
Ingredients:
2 cups organic  frozen  berries (raspberry is my favorite, strawberry is good, blueberry is very light)
2 teaspoons raw vanilla extract or 1 teaspoon raw vanilla powder (amaretto would be good here also)
1/2 Raw honey (local is best)
Instructions:
Mix all ingredients together in a sauce pan over a med/low heat.
Keep stirring  until thoroughly mixed. Don't let it burn or bubble up.
Once mixed strain through fine mesh stainer.
Add to mineral water to taste.
Note:  1/2 of the mixture makes a nice strong flavor in a 16 oz glass of mineral water.