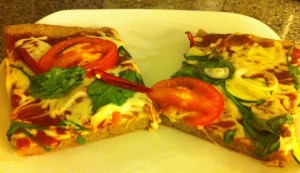 This recipe uses a wide variety of alternative flours, I find they work best if you mix them.  It does have quite a bit of starch but hey even us gluten free folks have to live a little, right?   I normally would make wheat pizza on a pizza stone but that needs to be heated before you put the crust on.  With this gluten free crust you need to spread it with you hands, and on a hot pizza stone, that would hurt!
Gluten Free Sicilian-style Pizza Crust
I designed this recipe to yield a thick crust that covers the inside of 18×26 rectangular cookie sheet. I don't have a stainless steel pan (yet) and I don't like cooking on aluminum so I cover that with natural parchment paper. You could also use a silpat.
Author:
April Richard at BeyondBaked.com
Ingredients
1 cup sorghum flour
1 cup tapioca flour
1 cup arrowroot flour
½ rice flour
½ buckwheat flour
3 teaspoon baking powder
2 teaspoon psyllium husk powder or more the common xanthan gum, the gum isn't really good for you so I use the psyllium powder it always works and I never feel cleansed 😉 check out this explanation of psyllium husk and husk powder http://glutenfreegirl.com/what-is-psyllium-husk/
1 teaspoon Himalayan salt ( you can you a good sea salt also)
Optional add in : 1 teaspoon dried oregano
In a medium glass bowl:
Proof your yeast (5-10 minutes or until foamy)
1 cup warm water
3 tablespoons rapadura sugar or 1½ tablespoons raw honey (you can reduce this if you trying to cut sugar but I think it tastes best this way)
2½ tablespoons active dry yeast, or 3 small packages
Instructions
Sift together dry ingredients in a medium to large bowl and set side.
In the mixer:
The whites of 2 large pastured eggs or at the very least organic ( I suppose egg re-placer would do fine here, although I have no experience using it)
/4 extra virgin olive oil
/4 milk (I use raw, full fat is best here but you could use alternative milks if you don't eat dairy)
teaspoon apple cider vinegar
Add to this, the proofed yeast mixture and the sifted dry ingredients and mix well until combined. It will be a sticky thick dough. Oil your hands really well with olive oil and use them to smooth it out on a natural parchment paper lined rectangular cookie sheet. You will have to re-oil a few times and keep smoothing, until it's all stretched out. Make an edge all the way around.
Par bake in the oven at 400 degrees Fahrenheit for 8 minutes.
Remove and add sauce, cheese and or other toppings.
Return to oven for an additional 8 minutes.
Slice and serve 🙂