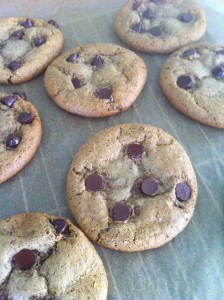 Makes about 30 cookies
Ingredients:
2 cups nut butter, I prefer raw almond
1 1/4 cup rapadura or other unprocessed sugar
1 teaspoon baking soda
1/2 teaspoon  Himalayan salt
cacao chips (about 1/2 cup)
Mix everything except the chips together, form balls and place on parchment paper lined cookie sheets.   I have a method I always use when it comes to candy in cookies, and that is, it always goes on last.   Add the chips to the balls as you like, this way they stay toward the top of the cookie and don't get burnt as well as being about to arrange them in a design (like a face) if you choose.
Bake at 350 for 8-12 minutes, mine were done right at the 10 minute mark.