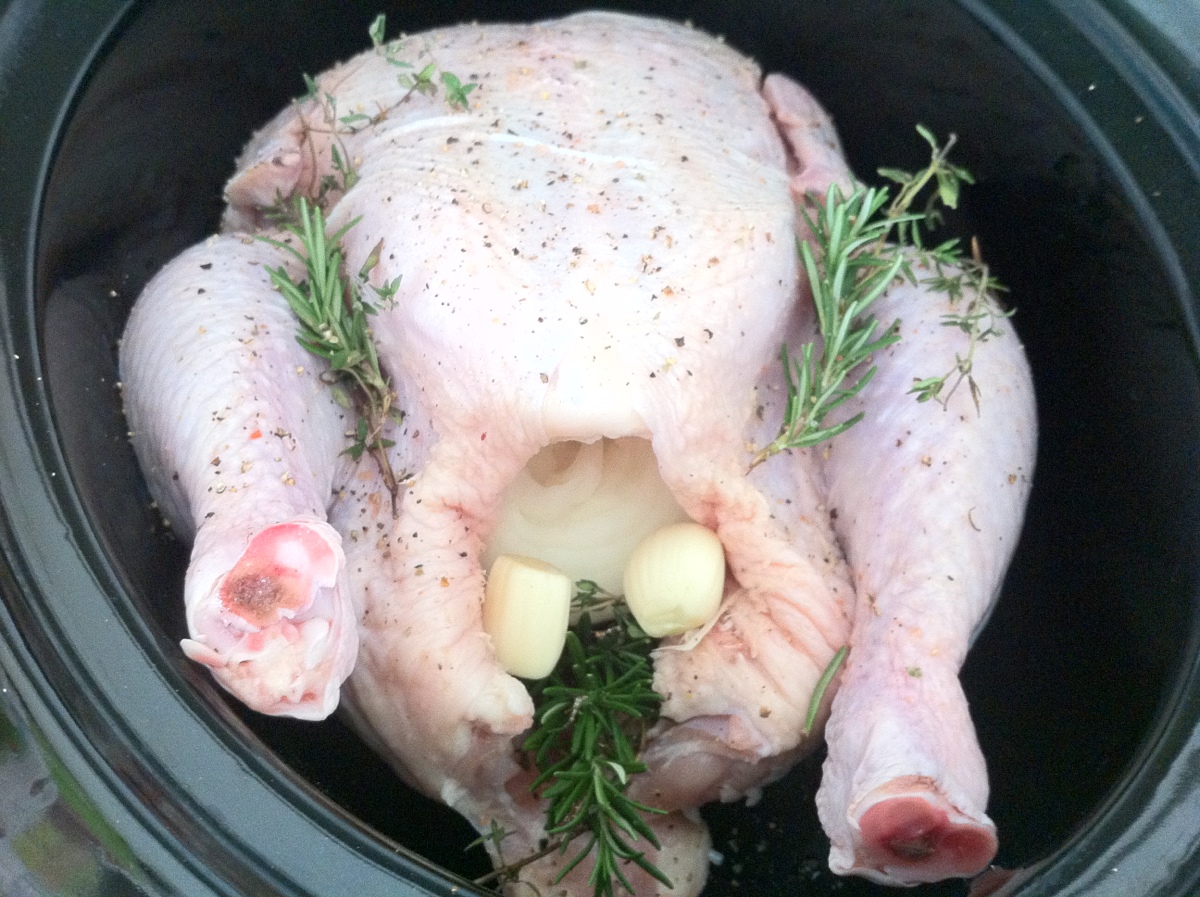 Ingredients:
One whole organic/free range or better yet pastured chicken
A few springs of fresh rosemary and thyme
Half a large or one small onion
2 large cloves garlic (peeled)
fresh cracked pepper
Himalayan salt
My favorite chicken in the crock-pot combo….fresh rosemary, thyme, onion, garlic, fresh cracked pepper, Himalayan pink salt.   I stuff the onion, garlic, rosemary and thyme right in the cavity.   Add fresh cracked pepper and salt, tuck some rosemary and thyme under the legs and flip it over beast side down.  Salt and pepper this side and cover.
Roast in crock-pot on high for about 4.5 -5 hours or until chicken is 170 degrees with a thermometer.   Mine is usually falling off the bone.
PS:  Don't forget to take out the paper bag out from inside the cavity, it may contain some great little giblets for gravy or pan frying or just take them out of the paper and throw them back into the cavity.  Even if you don't eat them they can add to the broth.
Don't forgot to make bone broth with the carcass, joints, skin, etc.   Add tablespoon apple cider vinegar, enough filtered water to cover and heat on high for one hour, turn it down to low and simmer 12-14 hrs.   Strain and refrigerate, either use in 3 days or freeze it.
I use this in my quinoa, my quinoa pasta, whipped potatoes, gravy, soups, lentils, beans, and I just drink it warm in a mug.
Here's a great post on how nutritious bone broth is from Nourished Kitchen   http://nourishedkitchen.com/bone-broths-adrenals-bones-teeth/